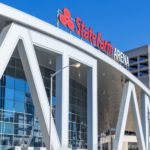 The Boston Celtics defeated the Atlanta Hawks in Game 6 on Thursday with a score of 128-120 to advance to the Eastern Conference semifinals.
Jaylen Brown led the Celtics with 32 points on 6-of-8 shooting from deep, while Jayson Tatum added 30 points and 14 rebounds. With just under four minutes to go and tied at 113, Boston scored eight straight points and finished the game on a 15-7 run. For Atlanta, Trae Young had 30 points (9-of-28 FG) and 10 assists, but it wasn't enough to hold off the Celtics from clinching the series.
The Boston Celtics will now face the No. 3 seeded Philadelphia 76ers in the next round. Game 1 will take place Monday, May 1st at 7:30 p.m. in Boston.
Editorial credit: Erik Gonzalez / Shutterstock.com