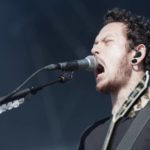 Trivium are celebrating their brand new HQ, "The Hangar" — a former airplane hangar — with a pair of livestream shows over two weekends in December. The shows will coincide with the release of a new Hangar website portal, from which the events will be broadcast.
The first of the two shows is set for Saturday, December 11, celebrating the tenth anniversary of the band's fifth studio album, In Waves.  The second show, Deadmen & Dragons, will focus on more recent material.  Fit for an Autopsy will open both shows.
From now through Wednesday, December 1, tickets for both shows will be on sale for $20. Beginning Thursday, December 2 through Tuesday, December 14, tickets for both shows will be $25. Fans can enter to win a guitar from The Hangar Vault when they purchase a ticket to the livestreams, and both shows will feature an in-stream chat and a 72-hour, video-on-demand replay function.
Tickets are available at the link here.
Editorial credit: Aija Lehtonen / Shutterstock.com